Cayce SC  –  One of the best seafood restaurants in the south! The staff were great. The owners wife was welcoming, the front host seated us promptly. Our waitress Lisa was very attentive and funny. She explained the specials and helped us with our selection, which ended up with more delicious food for our money!
The food was cooked to perfection. Everything was seasoned just right. The fries were very crispy. The chicken tenders were crispy and juicy. The fish was definitely worth waiting for.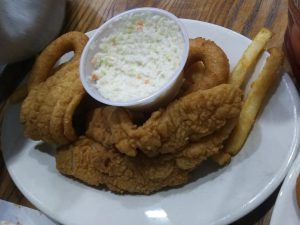 The environment was very family oriented. The customers were very happy and cheerful. I would definitely recommend this as a must go to restaurant.